David Zimmerman
Associate Professor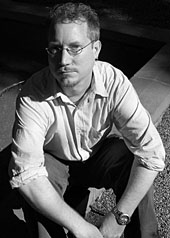 David Zimmerman attended Emerson College for film studies and then went on to earn an MFA in creative writing at the University of Alabama. He has worked as a publicist at St. Martin's Press in NYC and taught writing at Georgia Southern University, Dilla University College in Ethiopia, South College in Savannah and the University of Wisconsin, where he was also a fiction fellow at the Wisconsin Institute of Creative Writing. His books include a novella, Socket, published by Anvil Press, and two novels, The Sandbox, published by Soho Press in 2010, and Caring is Creepy, published in 2012.
Office/Office Hours
office: 415 Ross
office hours: T-Th 1-3 PM W 1-2 PM
office phone: (515) 294-3013
email: dzimmer@iastate.edu
Interests
Film
Short Fiction
Novel
Contemporary American Fiction
Selected Publications
Caring is Creepy, Soho Press, 2012.

The Sandbox, Soho Press, 2010.

Socket, Anvil Press, 2001.
"Jack 'O Lantern." Flyway. Spring 2005
"Three Denials." Madison Review 49 (2003) 10-29.
"Shut Up It's Not Your Birthday." Puerto Del Sol 76 (2003): 117-134.
"In Search of ADO." SubTerrain 34 (2002): 40-41.
"Ant Lion." Quarterly West 53 (2001-02): 158-212.
Affiliations
Degrees
Graduate Seminar, University of Denver Publishing Institute, Denver, CO, 1995.
M.F.A., University of Alabama, Tuscaloosa, AL, 1995. Thesis: Hotwire (A novel), Director: Sandy Huss
B.F.A., Emerson College, Boston, MA, 1992. Major: Communications
Document Actions