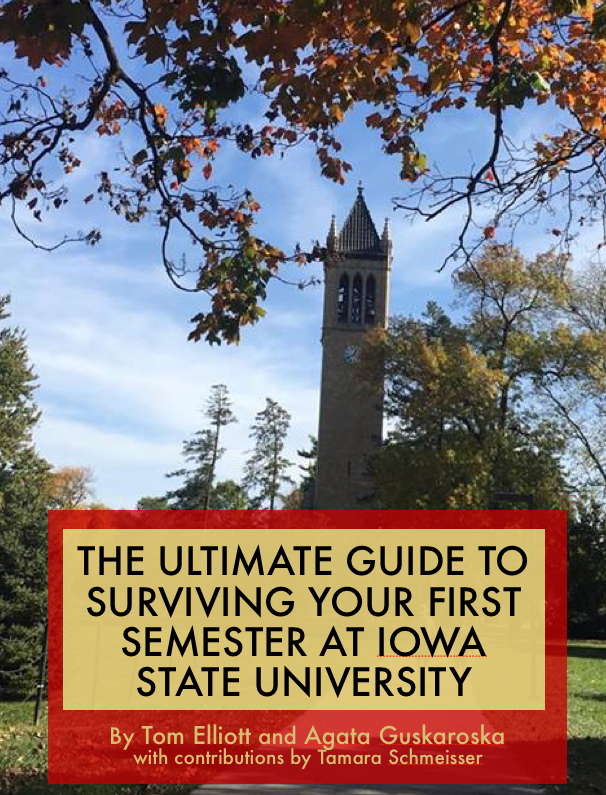 Agata Guskaroska and Tom Elliott, students in our MA program in TESL/Applied Linguistics, have developed this interactive eBook "The Ultimate Guide to Surviving your First Semester at Iowa State" in order to provide helpful information for all new students at ISU.
They also received Best Impactful Innovation Award for their presentation of this interactive eBook at the Graduate and Professional Student Research Conference at ISU in April 2018.
---
Welcome to the ISU English Department's
Peer Advising Resource Team!
Our peer advisers are excited to share their experience and perspectives with prospective, incoming, and established members of ISU's English Department Graduate Student Community.
Whether your questions be about
Selecting a course of study
Finding somewhere to live
Navigating your first few semesters
Making the transition from coursework to independent research
Even looking for the best pizza in town
Please contact us, first looking at our individual bios and contacting us individually or sending general questions to our group at this address: englpeeradviser@iastate.edu
To help us best direct your questions, please put the nature of your question in the subject heading.
---
PART Team
---
Kim Becker
Graduate Assistant [ENGL]

My name is Kim Becker and I started the PhD in Applied Linguistics and Technology in Fall 2015. My research interests include computer-assisted language learning and corpus linguistics. I grew up in Mississippi where I earned a BA in English and then was a Teach for America Corps Member. I earned an MA TESOL at Northern Arizona University and afterward taught ESL for nearly ten years—primarily at a community college in Nashville, Tennessee—before moving to Ames. My household includes one husband, two sons (born in 2004 and 2009), five chickens, and a pet snake. We live in a home we bought near downtown Ames.
I am happy to answer questions about anything, but in particular, I have experiences to share about enrolling children in public schools, purchasing a home in Ames, trying to manage a family while in grad school, and raising backyard hens.
Bonus tip: I encourage you to freely ask questions of faculty, staff, and students. No one can learn everything from the POS Manual or website information. I wish I had asked more questions instead of assuming that I "should" know it all or that asking questions made me seem uninformed. As for food, I like the mac and cheese and homemade chips/dip at the Cafe, pizza at Vesuvius, and Scotch eggs, scones, and tea at the Mucky Duck pub.
---
Sam Cosgrove
Graduate Assistant [ENGL]
Samantha Cosgrove is a student receiving her PhD in the Rhetoric and Professional Communication and co-majoring Human-Computer Interaction. She received her MA in Rhetoric and Composition from the University of South Florida in 2016. Her current research interests are risk communication, visual rhetoric, and navigating digital spaces. She plans on staying in academia after graduation, ideally securing a tenure track position at an R1 university. She has 3 years of experience teaching English composition courses and hopes to teach Technical Communication courses in the future.
She is originally from Fayetteville, North Carolina, but moved around a bit since starting graduate school. She came to Ames from Tampa, Florida so if you are also from a warm weathered state, you can reminisce with her about warm winters and flip flops. Topics she can advise on: renting apartments off-campus, CyRide, restaurants and bars, sorting out the course DPS, and getting in your transfer credits.
---
Idée Edalatishams
Graduate Assistant [G COL]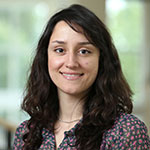 Idée Edalatishams holds an M.A. in ELT and a BA in English Translation from Azad University, Tehran, Iran. Her primary research focuses on spoken discourse, particularly pronunciation, accentedness, and comprehensibility mainly through corpus linguistics as methodology. She is also interested in non-native speakers' identity perceptions as they relate to linguistic stereotyping. She has presented her work in conferences such as AAAL, PSLLT, AACL, SLRF, CALICO, and TSLL. During her 5 years in the Ph.D. program, she has taught ISUComm Foundation Courses, as well as ESL courses focusing on ITAs' speaking skills and undergraduates' writing, listening, and reading skills. She has also worked as a graduate communication consultant at the Writing and Media Center and is currently an English speaking/writing consultant at the Center for Communication Excellence, Graduate College.
---
Thomas Elliott
Graduate Assistant [ENGL]

Tom Elliott is an PhD student in Applied Linguistics and Technology (ALT). He received B.A.s in Linguistics and French, and an MA in TESL/Applied Linguistics from Iowa State University.  Prior to joining the program, he worked as an ESL tutor for the America China Exchange Society.  His current interests include corpus linguistics methodology and second language acquisition.
---
Jack Friend
Graduate Assistant [ENGL]
Jack Friend is a student in the MFA Creative Writing and Environment program. He graduated from Reed College in 2005, earned his Masters in Education in 2014, and has taught all grade levels. He writes horror, fantasy, and science fiction.
Jack can provide information on eating in Ames, finding things to do around town, and what kinds of communities are in the MFA program. Also, if you are of a nerdly persuasion, he can clue you in on the Magic, DND, and Pathfinder groups that are already alive and well in the English department.
---
Agata Guskaroska
Graduate Assistant [ENGL]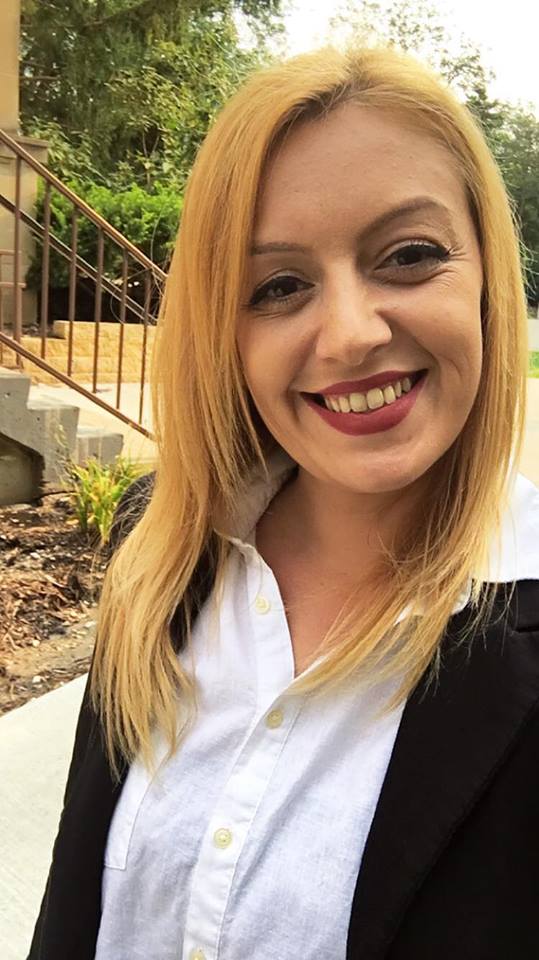 Agata Guskaroska is a PhD student in the Applied Linguistics and Technology program at Iowa State University. She holds a BA in English Language and Literature, first MA degree in Applied Linguistics from FON University and second MA in TESL/Applied Linguistics from ISU. She taught ESL courses in primary and secondary schools and American literature course at university level. She worked as a Teaching Assistant at FON university in Macedonia and has won Fulbright scholarship in May 2017. Agata's major interests include computer-assisted language learning, pronunciation and second language acquisition.
Being a sponsored student, she can share advice and tips on anything that you may need as a new international or Fulbright student. Starting a new chapter in your life, adapting to a new educational system and integrating into a new culture, and gathering a pile of documents may be overwhelming and difficult at the beginning. She encourages students to be well-organized, ask questions, and create checklists.
In order to assist newcomers, she and classmate created an iBook called 'The Ultimate Guide to surviving the first semester at ISU' where you can find information about any type of assistance that you may need. This iBook is inspired by the authors' need of support in the first semester. Theyt strongly believe it will provide excellent support for you! It covers many areas, starting from tips on navigating the city, to campus resources, surviving the emotional breakdown, and interesting facts about the American Culture. The iBook can be downloaded at https://itunes.apple.com/us/book/ultimate-guide-to-surviving-your-first-semester-at/id1364951058?mt=11
---
Roz Hirch
Graduate Assistant [ENGL]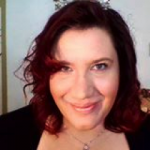 Rosalie "Roz" Hirch is a PhD student in Applied Linguistics & Technology, specializing in language assessment. More specifically, she is interested in validation, task design, and diagnostic assessments. She is also interested in corpus linguistics, and is working on several projects related to this field, most notably a project using keyword and cluster analyses for text analysis. She has presented her research at SLRF, LTRC, and AAAL She originally comes from Canada—Medicine Hat, Alberta, to be exact. She has also lived in Korea and Taiwan.
Roz is single and lives by herself, though she has 2 cats that have lived with her in all of the countries in which she has lived, so among other things, she can give advice about moving when you have pets. She is happy to answer questions about language assessment courses, general coursework, living off-campus, student visa (esp. for Canadians), clothes shopping, pets, and ridiculously cute cat pictures.
---
Mariah McGuire
Graduate Student [ENGL]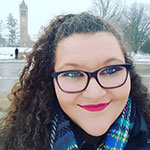 Mariah McGuire graduated summa cum laude with an Honors degree from Iowa State University with a Bachelor's in English and International Studies.  She is currently a second year student in MA program in English Literature. Her research interests focus primarily on Victorian literature, specifically with an emphasis on feminism and criminality. Mariah teaches ENGL 250 and enjoys working closely with her students, colleagues, and instructors, and is more likely than not to bring up unrelated facts about serial killers in every conversation. Her current projects revolve around Victorian and Neo-Victorian murderesses, as well as Sweeney Todd and cultural cannibalism.
She has lived in Ames effectively her whole life, and can tell you pretty much anything you'd like to know about the area. She can help you find out where the best place to eat is, what activities there are in the Ames-Des Moines area, what local schools are like, the best places to to shop for inexpensive fashionable clothes, and how to navigate the town. She also takes in an inhumane amount of books, TV shows, and podcasts.
---
Ananda Muhammad
Graduate Assistant [ENGL]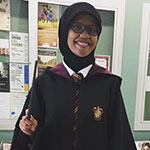 Ananda Muhammad is currently a PhD student in the Applied Linguistics and Technology program. She started her PhD after graduating with her MA in TESL/Applied Linguistics from Iowa State University as a Fulbright Scholar. She is originally from the wonderful tropical Indonesia where she taught for two years after graduating with a BA in English Language and Literature from Universitas Hasanuddin. During those two years, she taught people of various ages and backgrounds in different settings: private language schools and higher education. Currently her research interests are in computer-assisted language learning and language assessment, specifically in the area of pragmatics.
She knows quite a bit about life as a Foreign Fulbright Student in the U.S. She served for approximately 2 years as the President of the Fulbright Students and Scholars at ISU organization. She would be happy to share advice about navigating the U.S. academic setting as a Foreign Fulbright Student, Other areas she is happy to share advice on: securing funding from the Graduate College and English Department for conference travels, being a teaching assistant, travelling and visa processes for Indonesians, housing in Ames, and being involved in student organizations.
---
Mike Robbins
Graduate Assistant [ENGL]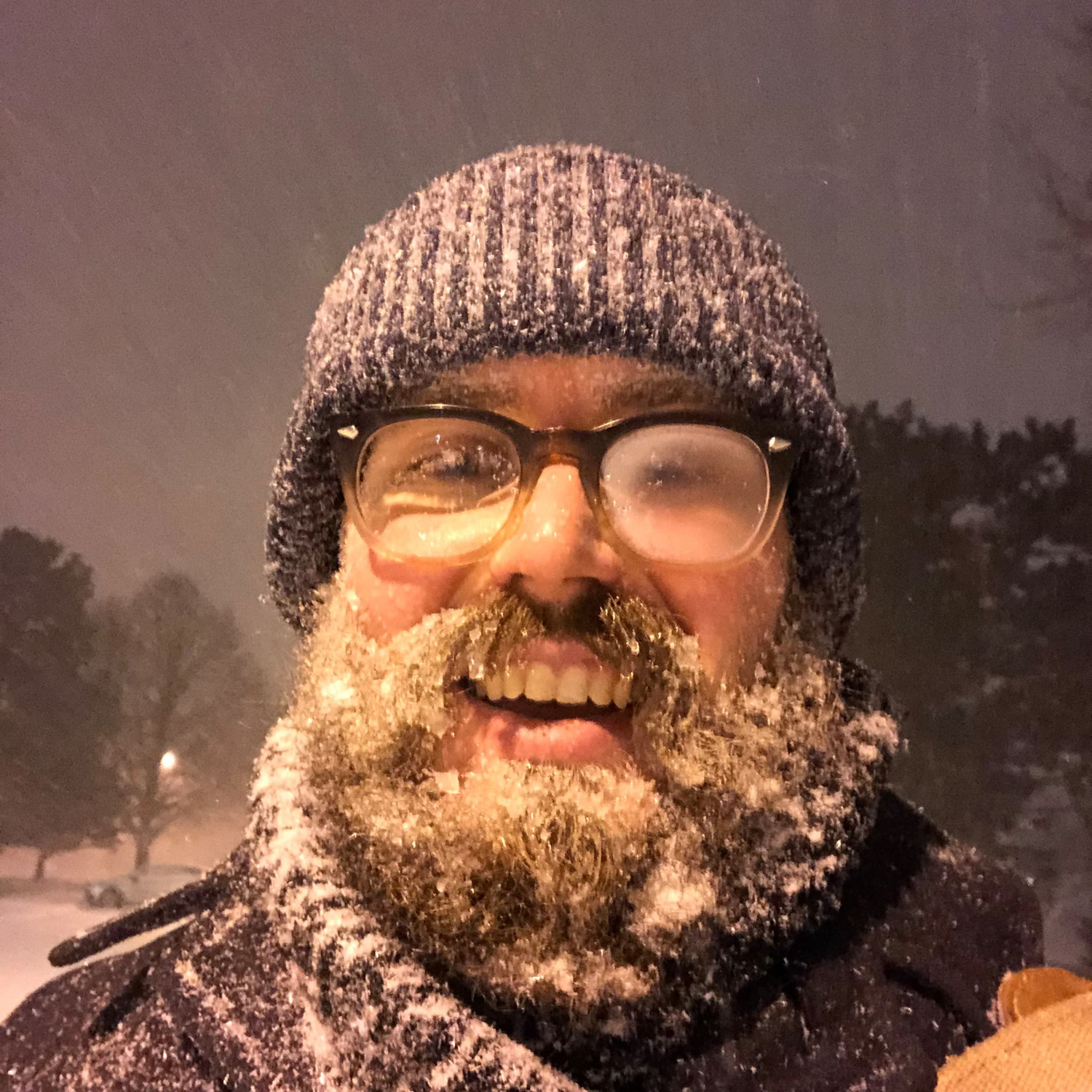 Mike Robbins is short story writer from the verdant, nostalgic town of New Milford, Connecticut. Before attending Iowa State's Creative Writing and Environment program, he studied English Literature at Western Connecticut State University and served two years as an AmeriCorps member at education related nonprofits in New Haven, CT and Washington, DC. Afterward, he worked as a grant writer at Reading Partners DC.
In 2019, he was a Writer-in-Residence at Art Farm in Nebraska and Writer-in-Residence at the Iowa Lakeside Laboratory. Mike is at work on a collection of stories that travel from Iowa to Connecticut and move south on I-95 to Washington, DC.
---
Kristin Terrill
Graduate Assistant [G COL]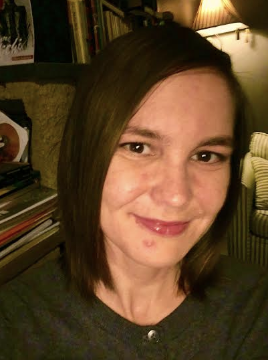 Kristin Terrill is a PhD student in the Applied Linguistics and Technology program at Iowa State. Both her BA and MA are from Northern Arizona University, where she studied English Literature and Professional Writing. Outside of academics, she has worked as a technical writer and quality assurance generalist in engineering companies. My research interests include discourse analysis, morphology, semantics, and computer science.
She is happy to answer questions about teaching ISUComm, project planning, group projects, and research proposals. She lives off-campus and commutes (as much as possible) by bicycle. She has 2 dogs and a cat. She can recommend a good veterinarian, mechanic, and CPA. If you like cooking at home, talk to her about recipes that are good for reheating as leftovers.