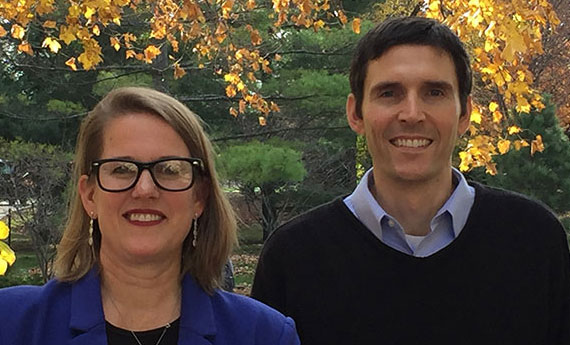 Rachel Murdock and Matt Baker, PhD students in the Rhetoric and Professional Communication program, presented their study on Narratives of Job Loss at the 2015 National Communication Association conference in Las Vegas, Nevada. They are currently developing ways of expressing alternative master narratives and plan to submit the article for publication during summer 2016.
Under the mentorship of faculty member Stacy Tye-Williams, Matt and Rachel analyzed job loss narratives from about 30 people, finding that those who lose their jobs tell stories that help them navigate two master narratives, or overarching cultural beliefs people have, about job loss.
Matt Baker's interest in job loss began during an internship and study abroad opportunity he completed during his undergraduate degree at Brigham Young University. His travels took him across the country of Hungary, conducting workshops about the job search process. After returning to the United States and learning first-hand about the difficulty of securing his own full-time job, Matt adapted the workshop for his fellow college students and taught it for many years at BYU.
After working for almost four years in information systems and banking as a consultant and manager, Matt returned to school to earn a master's degree in business administration from BYU. During his MBA, Matt worked as a teaching assistant and taught a business communication course in the Marriott School of Management. His passion for teaching and research originated there, ultimately leading him to pursue a PhD in the rhetoric and professional communication program at Iowa State University.
At ISU, Matt's interest in the job search process has spilled over into his research. In addition to his presentation on narratives of job loss at the National Communication Association Conference, he has coauthored a forthcoming journal article (with ISU faculty Tina Coffelt and Bob Corey) about communication skills that employers seek in new college graduates. The article will be published in Business and Communication Quarterly. Matt has also recently finished coauthoring a business communication textbook (with Dr. William H. Baker) titled Writing and Speaking for Business (4th edition), where many of his thoughts and perspectives about the job search process can be found.
Rachel's interest in job loss is also personal, as she watched close family members and friends find their ways through losing and finding employment. As a communication scholar, she found itstudy fascinating that the way a person chose to communicate about their job loss made such a difference to their outlook. This project allows Rachel to merge her interests in oral communication, public discourse, media influence and work-related communication to discover effective ways job seekers and those around them can create more effective communication about job loss.
Rachel's research interests combine in different ways in her dissertation research, as she looks at the oral communication of scientists with the public, focusing on how scientists can more effectively connect with non-scientists. Rachel works with a large NSA grant on campus to evaluate PhD students from different science disciplines as they speak to public audiences.
Before beginning her PhD program at Iowa State, Rachel earned her master's degree in mass communication at Miami of Ohio, and developed her interest in oral communication as she taught public speaking, interpersonal communication and media classes at several colleges. She was awarded the Iowa Communication Association's Adjunct of the Year award in 2015.