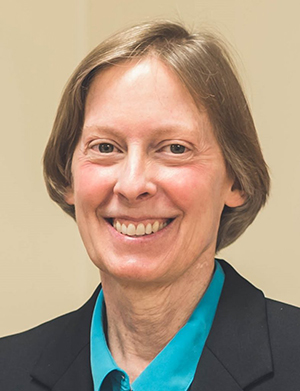 From Angel Arias — "On behalf of the American Educational Research Association's (AERA) Special Interest Group (SIG), Test Validity Research and Evaluation, I am pleased to announce that Distinguished Professor Carol A. Chapelle has been selected as the 2020 recipient of the Test Validity Research and Evaluation Award for a Senior Scholar. Dr. Chapelle was scheduled to deliver a talk on argument-based validation at the AERA Annual Meeting in San Francisco, California, but unfortunately this venue was cancelled due the escalating crisis of COVID-19. However, we can still celebrate Dr. Chapelle's achievements and contributions to the field of language testing and assessment.
Carol A. Chapelle is distinguished professor in the College of Liberal Arts and Sciences at Iowa State University, where she teaches courses in second language acqui­sition and assessment, including a course on argument-based validity. She has more than 30 years of experience working on research and development in testing and assessment for English as a second language, including supervision of PhD dissertation research, participation in test development projects, and advisory service for commercial, nonprofit, and government projects in testing.
She was led to the nascent concepts of argument-based valida­tion in the early writing of Michael Kane while working on a project to summarize the validation research for the Test of English as a Foreign Language (TOEFL iBT) at Educational Testing Service. The team cultivated Kane's concepts, resulting in a book, Building a Validity Argument for the Test of English as a Foreign Language (Chapelle, Enright, & Jamieson, 2008), which remains an important example of a validity argument in use. A second book providing methodological guidance, Argument-Based Validation in Testing and Assessment, has just been published in the Sage Quantitative Applications in the Social Sciences Series (Chapelle, 2021).
Professor Chapelle is the recipient of the 2012 Cambridge-International Language Testing Association Lifetime Achievement Award, the 2012 Educational Testing Service TOEFL Program Messick Memorial Lecture Award, and the 2015 Distinguished Scholarship and Service Award from the American Associa­tion for Applied Linguistics.
Please join me in congratulating Dr. Chapelle on this award and the exemplary contributions she has made to argument-based validity."