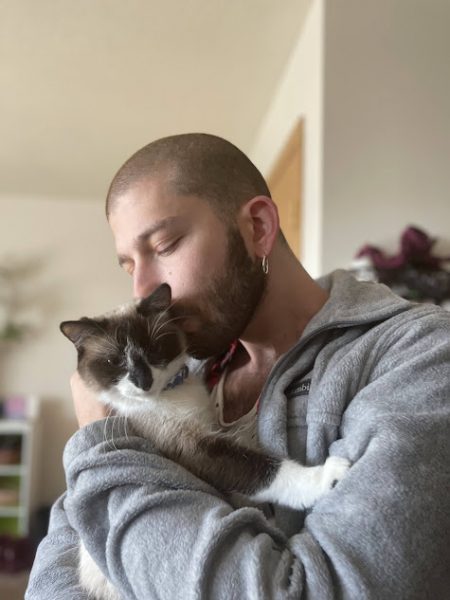 What do you wish your students knew about you?
Burak: That what they see me doing in class is 10% of what I do as an instructor.
Jessica: I am designing a board game as a creative component for my master's degree. 
What one word would your students use to describe you?
Burak: Approachable.
Jessica: Caring.
What's something your students have taught you this semester?
Burak: That West Virginia is not actually a Midwestern state.
Jessica: Canva tips and tricks.
What one teaching tool will we always find you with?
Burak: ChatGPT 😉
Jessica: Free-write journal prompts.
If you could share one sentence of advice with newer teachers, what would it be?
Burak: Don't forget the simple fact your students want to see you succeed as much as you want to see them succeed.
Jessica: Try not to stress so much about what the students think of you. 
What's something you are passionate about (outside of ISUCOMM)?
Burak: Coding and AI. And reading… about coding and AI.
Jessica: Exploring nature and camping. 
What has been your favorite assignment to teach in ENGL 150 or 250?
Burak: Definitely the multimodal design assignments.
Jessica: Multimodal design. The students are so creative! 
What is your most frequently used emoji?
Burak: 😄
Jessica: 🤗
If you had your own late-night talk show, who would you invite as your first guest?
Burak: My partner, Ananda, because we're in this together.
Jessica: Nick Jonas.
If you had to sing karaoke, what song would you pick?
Burak: This'll give my generation away but Cry Me a River by Justin Timberlake.
Jessica: Closer by The Chainsmokers.
In the next newsletter, what question do you want us to ask your colleagues, and how would you answer it?
Burak: What was one fun moment you shared with your students recently? And my answer would be when one of my students said she was struggling with Spanish, I continued the conversation in Spanish for a while – gave us all a good laugh.

Jessica: What is your favorite game (video game or tabletop)? My favorite board game is Wingspan, and my favorite video game is Animal Crossing.