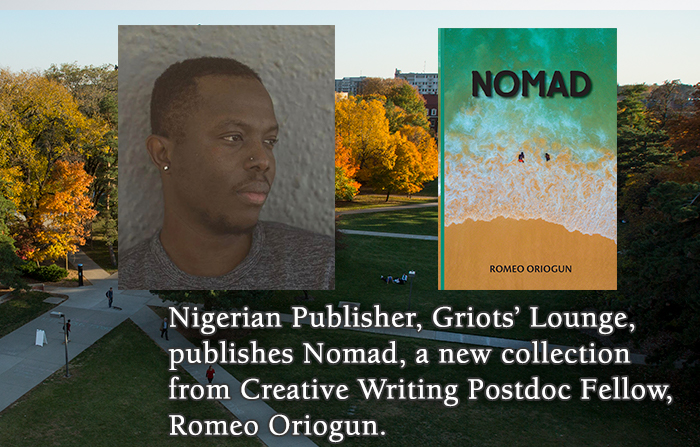 Nigerian Publisher, Griots' Lounge, publishes Nomad, a new collection from Creative Writing Postdoc Fellow, Romeo Oriogun.
Blurbs
Romeo Oriogun's poetry explores alterity and displacement – of location, of intimate physical spaces, of color/race, the remnant music of Caliban. He does this with a deft hand and an instinctive feel for the cadences of the lyric.
—Niran Okewole, author of Logarhythms and The Hate Artist
Oriogun combines the exploratory intensity of travel poetry with the confessional fidelity of a memoir to paint the journey of a curious child sculpting his truth into questing words across strange and known terrains. The result is a deeply attentive work brimming with wisdom and a power of observation. An authentic voice, questing for home.
—Kọ́lá Túbọ̀sún, Author Edwardsville by Heart.
A clear-eyed journey through the wreckages of history, Nomad is a song at every border, a lyrical rendering of movement and loneliness that presses into hope. Oriogun is a poet of prodigious talent.
—Efe Paul Azino.
"The weight of a country/will always be too heavy to leave in a strange park?" Romeo writes. This type of illuminating and elegant lines are numerous in this collection. Romeo is a delightful poet who reminds us of why we fell in love with his poetry in the first place. We meet sorrow on the verge of beauty in his poetry, and we are given the option of emerging transformed after reading his poems. This collection establishes him as a discerning poet, conjuring up images that converge universal memories of exile from ordinary lives, reminding us that poetry can be found anywhere and that we can be a part of its unfolding.
— Jumoke Verissimo, award winning poet and author of I am memory and The Birth of illusion.