The faculty and students in the Department of English pursue a wide range of academic interests and scholarship.  In Applied Linguistics and Technology, we focus on using technology to investigate real-world problems in which language is a central issue.  The members of the Rhetoric and Professional Communications program are committed to studying the rhetorical and technological complexities of contemporary communication practice.  Our faculty are dedicated to one-on-one mentoring and to supporting students in achieving their own scholarly and professional goals.  Iowa State University's three-year MFA program in Creative Writing and Environment emphasizes study in creative writing—poetry, fiction, nonfiction, and drama—that encourages writers to identify and explore in their stories and lyric impressions the complex influences of place, the natural world, and the environmental imagination;  through intensive one-on-one work with a mentor ('major professor'), our MFA program offers gifted writers an original and intensive opportunity to document, meditate on, mourn, and celebrate the complexities of our transforming natural world.
We've gathered together the stories of a few of our faculty members and students so we can shine a spotlight on their work.  They are here to tell you what they are doing in their own words.
"The Intersection of Theory and Practice in the Rhetoric and Professional Communication Program at Iowa State University"
By Amanda Ortiz-Pellot
Ma-aruf Al'hassan, a graduate Ph.D. student in Rhetoric and Professional Communication, argues that the dichotomy between a concept's explanation and its application limits how we approach scholarship. There is a common tendency to separate theory and practice. We often forget that the intersection of these two concepts is what helps us understand topics, ideas, and issues. In other words, the relationship of both theory and practice are essential for the development of scholarship.
Ma-aruf sat down with Amanda Ortiz-Pellot to talk about how he plans to close the gap between theory and practice, as well as to expand on his experience in the Rhetoric and Professional Communication program at Iowa State University.
The full interview can be found here.
---
---
Linda Shenk — Associate Professor
As a humanist, I am really interested in the power of storytelling to bring people together, empower individuals who have not been sufficiently heard, and inspire action, especially collaborative action. So, I bring these elements together in my current work, now as a Shakespeare scholar-turned-public humanist. I take my background in performance and Shakespeare and apply those skills to how researchers and community members can support each other, through storytelling, to take local, collaborative action that builds relationships and creates a more sustainable environment. And to do that, I have collaborated with a hydrologist and climate scientist here at Iowa State to create a simple computer simulation model that brings together the stories of environmental science with local and personal stories. I have used it with local neighborhood groups, students, and women landowners in Iowa, and with it, we are—together–building partnerships and collaborations that are improving the environment AND supporting each other.
This all may seem like a far cry from Shakespeare, but it actually isn't. What makes Shakespeare's stories so powerful and lasting is not simply the beautiful language and provocative characters but also that Shakespeare leaves space, in each play, for us to make his plays somewhat our own. For example, in Romeo and Juliet, he never specifies why those two families are feuding, and thus, we fill in that space, that gap left, with what is currently polarizing our society—immigration (like West Side Story) or more recent productions that deal with gender and sexual identity.  As a Shakespearean, I realized that science's powerful storytelling tool—the computer simulation model—could become a collaborative narrative space for both communities and researchers if it was created with spaces left for communities to join their stories with the social and environmental stories what makes a strong community in research.   
So much interest in involving the humanities more in complicated social-environmental challenges, and my work speaks to one way the humanities brings distinctive skills to the table. In my work, I involve undergraduates—looking for articles about humanities methods of storytelling, working directly with the stories the model generates with neighborhood groups, women landowners, and students. One shared some of these ideas at last year's (virtual) International Soil and Water Conservation Society conference. She is doing amazing work—taking her perceptive close reading skills and cultural awareness as an English major and applying them to this type of story-making. I also started working with a Freshman Honors student these past few months who is thinking about these ideas in relation to her own interest as an English major in community-engaged humanities. Both of these students, in the same spirit if collaboration in the model, are expanding my own thinking. We learn best when we have diverse voices and ways of knowing working together.
---
---
Debra Marquart: Change Agent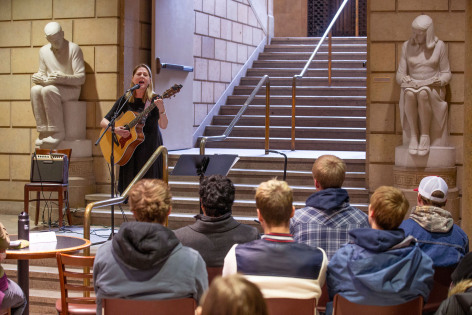 In April, 2019, Debra Marquart was named Iowa's Poet Laureate. In her role, she planned to hold creative writing seminars across the state and visit schools and libraries to inspire young writers.
"I was once a young, creative, dreamy kid growing up in a small town and I think about how it would have felt to have an artist come to my school," Marquart said. "One of the joys of being a published writer is that I get to teach and mentor young writers. I pinch myself every day. I've taken a very crooked, accidental path through life and I've been very lucky."
This is an entry in a series of articles telling the personal stories of Iowa State University faculty and scientists whose work is changing the world for the better. Click here for the complete list of Change Agents.
---
---
Allison Durazzi — Ph.D Student
Allison Durazzi, a third-year Ph.D. student in the Rhetorical and Professional Communication program at Iowa State University, has dedicated her research to uncover some of the practices and considerations that companies employ when commemorating notable figures or social issues through their products. In this article, she explains her efforts and dives into her experience in the Rhetoric and Professional Communication program at Iowa State University.
When it comes to raising awareness towards specific social justice issues, companies develop myriad approaches to carefully execute this fundamental effort. Many companies aim to display their support through different means such as advertisements, public statements, and even our favorite dessert—ice cream!
Allison sat down with Amanda Ortiz-Pellot to talk about her work and why she chose Rhetoric and Professional Communication at Iowa State University.  The full interview can be found here.
---
---
Dr. Abram Anders, Director of ISUComm Foundation Courses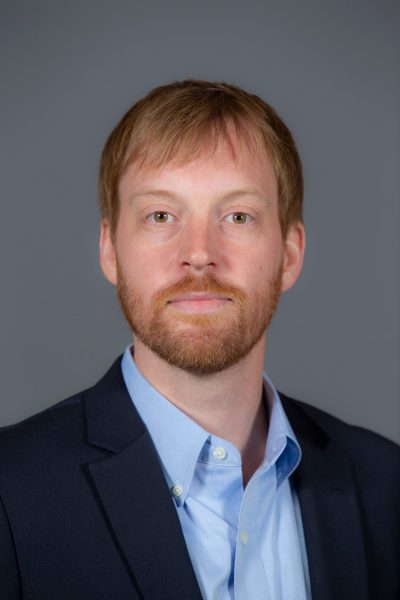 Dr. Abram Anders, Director of ISUComm Foundation Courses was recently featured by the Iowa State Open & Affordable Education Committee in its faculty stories series.
Starting in Fall 2020, the ISUComm Foundation Courses program adopted low-cost Immediate Access options for its required textbooks for all sections of English 150 and English 250. This approach has allowed the program to keep student costs low, student accessibility high, and enable enhanced program support for both students and instructors.
For this academic year alone, this low-cost textbook initiative has saved Iowa State students an estimated $440,000.
Dr. Anders notes: "We are extremely proud of the impact our program is having. It's saving Iowa State students money and it's providing them access that will enable their success in our courses from day one, right in their course sites.
---
---