The undergraduate Bachelor of Science program in technical communication addresses the natural relationship between practical communication and science/technology.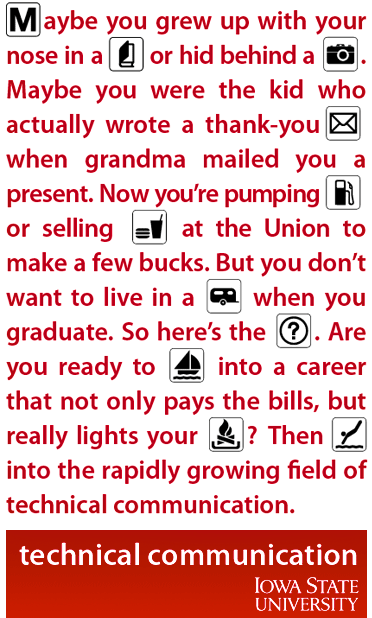 A major in Technical Communication from Iowa State University prepares you to help those who create ideas to communicate better with those who use them. As a Technical Communication major, you learn to compose a wide range of print and electronic documents for use in business, industry, schools and other institutions, and communities. Coursework for the B.S. in Technical Communication helps you to understand scientific and technical information and teaches you strategies for producing texts to communicate that information to others. To meet the needs of this demanding profession, you take courses in the following areas.
Theory and History
By taking theory and history courses for 9 credits, you learn about the theories that help to explain print and online documents, collaboration, organizational activities, and various technologies.
Principles, Practices, & Technologies
You also take 21 credits in courses dealing with principles, practices, and technologies in the workplace. These classes introduce you to the concepts of organizational culture and visual communication while they increase your computer literacy. As a technical communicator, you develop skills in an array of computer applications, equipment, and platforms.


Internship
You improve your technical communication skills on the job by enrolling in a semester-long internship, which helps you to develop skills that you cannot learn in the classroom alone.
Concentrated Study in a Technical, Scientific, or Design Field
Taking 6 credits in a related technical, scientific, or design field ensures that you have a specialty to which you can apply your communications. You will design a concentration to meet your career interests and goals in consultation with your adviser.

A sample 4-year plan for graduating with a major in Technical Communication.