The Pearl Hogrefe Visiting Writer Series events listed below are sponsored by the Pearl Hogrefe Fund, the MFA Program in Creative Writing & Environment, and the Department of English.
Each year, Iowa State University hosts dozens of environmental writers, scientists, and artists for public lectures. A selected list of speaker series events during 2015-2016 that will be of interest to creative writers is also listed below. For a complete listing of all public lectures at ISU, visit the Committee on Lectures website: http://www.lectures.iastate.edu/
---
FALL 2015
---
Sex Trafficking in the USA
Documentary & Discussion
Tuesday, 08 Sep 2015 at 7:00 pm – Great Hall, Memorial Union

"Sex Trafficking in the USA" is the first episode of Nicholas Kristof and Sheryl WuDunn's new documentary, A Path Appears. The Department of Justice estimates that there are 300,000 children at risk of being trafficked into sexual slavery in the United States. Reporters Kristof and WuDunn introduce us to the complex circumstances behind these shocking numbers and some of the survivors. They also document growing efforts to reshape law enforcement's response to prostitution and trafficking and the work of anti-trafficking organizations. National Affairs Series: When American Values Are in Conflict
George Belitsos, Retired Youth & Shelter Services CEO, will provide opening remarks. Following the 84-minute film, Teresa Downing-Matibag, executive director of the Network Against Human Trafficking and a lecturer of sociology at Iowa State, will lead a discussion. Participants include Ruth Buckels, the mother of a human trafficking survivor, and Mike Ferjak, who leads the Iowa Department of Justice Internet Crimes Against Children Task Force.
A Path Appears, is a follow-up to Nicholas Kristof and Sheryl WuDunn's groundbreaking series Half the Sky: Turning Oppression into Opportunity for Women Worldwide. The film features such advocates as Malin Akerman, Mia Farrow, Jennifer Garner, Blake Lively, Eva Longoria as they travel to Colombia, Haiti, Kenya, and throughout the United States uncovering the harshest forms of gender-based oppression and human rights violations, as well as the effective solutions being implemented to combat them.
In Sex Trafficking in the USA we meet Shana, who was first sold to a pimp by her mother at the age of 12; Maria, a mother who discovers her 15-year-old daughter being sold through backpage.com; and Savannah, who was stalked by an older man and then sold and held in sexual bondage.
Cosponsored By:
Central Iowa Service Network
Iowa Network Against Human Trafficking
National Affairs
Rotary Club of Ames
Student Network Against Human Trafficking
Committee on Lectures (funded by Student Government)
---
Catch Me If You Can
Frank Abagnale
Monday, 21 Sep 2015 at 8:00 pm – Great Hall, Memorial Union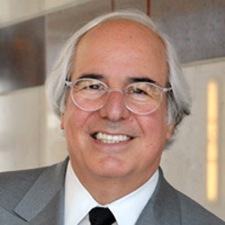 Frank Abagnale, a former con artist whose crimes inspired the memoir and movie Catch Me If You Can, is one of the world's most respected authorities on forgery, embezzlement, and secure documents. Following his five-year prison term, he was released after agreeing to help the FBI as an expert on fraud, going from a successful con artist to one of the world's top authorities on fraud prevention, and discussing the latest safeguards to protect organizations from fraud, identity theft and other cybercrimes. His security programs are used by more than 14,000 institutions worldwide. Greater Iowa Credit Union Business Lecture Series
Cosponsored By:
College of Business
Greater Iowa Credit Union
Committee on Lectures (funded by Student Government)
---
A New Chapter in the Living Legacy of George Washington Carver
Xavier Cavazos
Friday, 02 Oct 2015 at 8:00 pm – Brunnier Art Museum, Scheman Building, Iowa State Center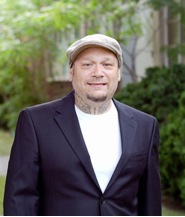 Xavier Cavazos, a 2013 graduate of Iowa State's MFA Program in Creative Writing and the Environment, will read from his new book of poetry, Diamond Grove Slave Tree. The collection is a product of Cavazos's time at Iowa State and inspired by stories of the life and times of one of the university's most distinguished alums, George Washington Carver. Diamond Grove Slave Tree won the inaugural Prairie Seed Poetry Prize from Ice Cube Press.
Cavazos is also the author of Barbarian at the Gate and served as poetry editor for Flyway: Journal of Creative Writing and the Environment. He currently teaches in the Central Washington Writing Project, Africana and Black Studies, and the Professional and Creative Writing Programs at Central Washington University.
Pearl Hogrefe Visiting Writer Series Event

Book signing and reception to follow
Cosponsored By:
MFA Program in Creative Writing & Environment
Pearl Hogrefe Fund
University Museums
Committee on Lectures (funded by Student Government)
---
Gut Churn
Radiolab's Jad Abumrad
Monday, 19 Oct 2015 at 7:00 pm – Great Hall, Memorial Union
Free event | No tickets needed | Doors open at 6:15

Jad Abumrad is producer and co-host of Radiolab, a show about curiosity where sound illuminates ideas, and the boundaries blur between science, philosophy, and human experience. Radiolab, heard weekly on NPR, is supported by the National Science Foundation and the Alfred P. Sloan Foundation, to enhance public understanding of science and technology. Topics have ranged from how Charles Darwin's 150-year-old discoveries about human emotion are helping Facebook users; details of the world's longest running experiment; an examination of one proposal to communicate with the dead; and a discussion of whether photos in this Digital Age cause us to forget. This lecture is the personal story of how Abumrad, a 2011 MacArthur Fellow and the son of a doctor and scientist, invented a new aesthetic and how those negative feelings we have during the creative process – gut churn – can propel us forward.
Jad Abumrad did most of his growing up in Tennessee, before studying creative writing and music composition at Oberlin College in Ohio. Following graduation, Abumrad wrote music for films, and reported and produced documentaries for a variety of local and national public radio programs, including On The Media, Studio 360 with Kurt Andersen, Morning Edition, All Things Considered and WNYC's "24 Hours at the Edge of Ground Zero."
While working on staff at WNYC, Abumrad began tinkering with an idea for a new kind of radio program. That idea evolved into one of public radio's most popular shows today – Radiolab. Abumrad hosts the program with Robert Krulwich and also serves as one of its producers. The program won the prestigious George Foster Peabody Award and explores big questions in science, philosophy and mankind. Under Abumrad's direction, the show uses a combination of deep-dive journalism, narrative storytelling, dialogue and music to craft compositions of exploration and discovery. Radiolab podcasts are downloaded over 4 million times each month and the program is carried on 437 stations across the nation.
Cosponsored By:
College of Design
College of Engineering
Engineers' Week
Committee on Lectures (funded by Student Government)
---
Intersections of Identity: A Spoken Word Performance
Kai Davis
Friday, 23 Oct 2015 at 7:00 pm – Sun Room, Memorial Union

Kai Davis is a writer and performer from Philadelphia whose work deals with race, gender and sexuality. A Queer Woman of Color, she explores how these concepts affect who we are and how we love. In 2011 Davis was awarded the title of National Brave New Voices Grand Slam Champion, and in 2012 she was the second-ranked Youth Speaks Individual Slam Poet in the nation. Her work has been featured at the San Francisco Opera House, the Kimmel Center, the Temple Performing Arts Center, and on CNN. Davis is the artistic director of the Babel Poetry Collective. She is also a Creative Writing and African American Studies student at Temple University.
Watch her performance videos online at kaidavispoetry.com
Cosponsored By:
Asian Pacific American Awareness Coalition
Black Student Alliance
Division of Student Affairs – Student Event Fund
Lambda Theta Alpha
Committee on Lectures (funded by Student Government)
---
Racing Extinction
Discussion with Filmmaker Louie Psihoyos
Tuesday, 27 Oct 2015 at 8:00 pm – Great Hall, Memorial Union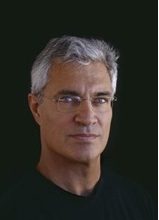 Louie Psihoyos won an Academy Award for his documentary The Cove, and his new documentary, Racing Extinction, premiered at Sundance in 2015. Psihoyos is widely regarded as one of the world's most prominent still photographers. He has circled the globe for National Geographic and shot hundreds of covers for other magazines, including Fortune Magazine, Smithsonian, Time and Sports Illustrated. He is also the founder and executive director of the Oceanic Preservation Society (OPS), a non-profit organization that creates film, photography and media inspiring people to save the oceans. In Racing Extinction, Psihoyos joins forces with activists, scientists, nature photographers and cutting-edge inventors to draw attention to the dangers we face. While covert operations reveal the horrific black-market trade in endangered aquatic species, the film's broader lens uncovers the even more disastrous consequences of human activity. Part of the World Affairs Series: Redefining Global Security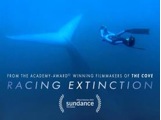 Cosponsored By:
Office of Sustainability
The Green Umbrella
World Affairs
Committee on Lectures (funded by Student Government)
---
The Plight of Homeless LGBTQ+ Youth
Ryan Berg
Monday, 09 Nov 2015 at 8:00 pm – Great Hall, Memorial Union

Ryan Berg, author of No House to Call My Home: Love, Family, & Other Transgressions, will talk about his work in New York City as a counselor with LGBTQ teenagers in foster care, especially those who are about to age out of the child welfare system. Berg begins this account of LGBTQ teens in the NYC foster care system with statistics that are at once shocking and painfully familiar: Children placed in foster care are more likely than veterans of war to develop post-traumatic stress disorder. LGBTQ teens make up 40% of homeless youth and are especially vulnerable. 70% of LGBTQ youth in group homes reported violence based on LGBTQ status. Berg is a West Des Moines native and Valley High School graduate now living in Minneapolis.
A panel discussion with Ryan Berg will follow. Participants include Donna Red Wing of One Iowa, Penny McGee of Iowa Kids Net, and Julia Webb of Youth & Shelter Services. The panel will speak to the needs and problems in Iowa with special emphasis on the search for LGBTQ-affirming family foster and adoptive homes.
Cosponsored By:
AFFIRM
Achieving Maximum Potential
Ames PFLAG
Ames Public Library
LGBT Student Services
LGBTA Alliance
LGBTQ+ Youth Best Practice Committee
One Iowa
Youth & Shelter Services
Committee on Lectures (funded by Student Government)
---
Poems of Environmental & Social Justice
Jane Satterfield & Ned Balbo
Tuesday, 10 Nov 2015 at 7:00 pm – Campanile Room, Memorial Union
From their unique perspectives, poets Jane Satterfield and Ned Balbo engage personal and public history through an awareness of the challenges that shape our contemporary moment.

Jane Satterfield is the author of four books, including Daughters of Empire: a Memoir of a Year in Britain and Beyond, and Her Familiars, a collection of poetry.  Satterfield's honors include a National Endowment for the Arts Fellowship in poetry, the Florida Review Editors' Prize, the Mslexia women's poetry prize, and the Bellingham Review's 49th Parallel Poetry Prize. Satterfield is also the author of Shepherdess with an Automatic and Assignation at Vanishing Point.  She is the recipient of three Maryland Arts Council grants and has been awarded residencies and fellowships from the Virginia Center for the Creative Arts and the Sewanee Writers' Conference.  Her work has been awarded the Pirate's Alley Gold Medal in the Essay from the Faulkner Society, the Heekin Foundation's Cuchulain Prize for Rhetoric in the Essay, and the John Guyon Literary Nonfiction Award. Her work has appeared in numerous journals including Notre Dame Review, The Massachusetts Review, The Antioch Review, The Journal, Bellingham Review, and Elixir. She has served as the literary editor for the Journal of the Motherhood Initiative for Research and Community Involvement, and she is an associate professor of writing at Loyola University Maryland.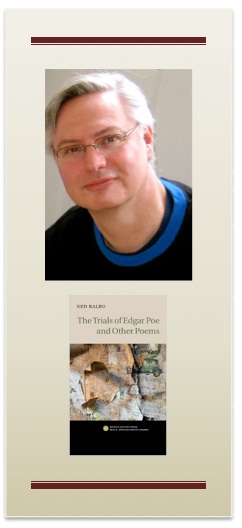 Ned Balbo is the author of three books including, most recently, The Trials of Edgar Poe and Other Poems, which was awarded the 2010 Donald Justice Poetry Prize and the Poets' Prize. Balbo currently teaches in the MFA program in Creative Writing and Environment at Iowa State University; his honors include the John Guyon Nonfiction Award, the Robert Frost Foundation Poetry Award, and three Maryland Arts Council grants. Balbo is also the author of Lives of the Sleepers, which received the Ernest Sandeen Poetry Prize and a ForeWord Book of the Year Award. Galileo's Banquet was awarded the Towson University Prize. Balbo has received three Maryland Arts Council grants, the Robert Frost Foundation Poetry Award and has been a poetry fellow at the Sewanee Writers' Conference and the Virginia Center for the Creative Arts.  His work has been published in numerous journals including Antioch Review, Crab Orchard Review, The Dark Horse, Dogwood, The Formalist, Notre Dame Review, River Styx, Unsplendid. His fourth book, Upcycling Paumanok, which poet Mark Jarman has lauded as "the vital history of one of the crucial American places," is forthcoming from Measure Press in 2016.
Pearl Hogrefe Visiting Writer Series Event
What the Critics Have Said
NED BALBO
"One of the things I love about The Trials of Edgar Poe and Other Poems is how pop culture references to the monsters and heroes of horror films, science fiction novels and television series, sprinkled throughout, are not glibly hip, but both personal and universalizing — we see them for the modern mythology they are. The father of modern horror, Edgar Allan Poe, himself provides a thread running through this book-length meditation on adoption and identity, on love and heartbreak, alienation and belonging."
A. E. Stallings, poet & translator, author of Hapax: Poems and Olives: Poems
JANE SATTERFIELD
"Fascinating and revelatory, Her Familiars explores the culture of war and female experience through a varied and lively mix of forms. Here we find epistles, refrains, litanies, elegies, and even a poem inspired by the iTunes party shuffle function."
Beth Ann Fennelly, author of Unmentionables: Poems and coauthor of The Tilted World: A Novel
"Jane Satterfield brings an astonishing range of subjects to Her Familiars, handling them with keen intelligence, musical intricacy, and tonal dexterity. Here, she tells of a child's encounter of tragedy through a poetry recitation, or the life of an exemplary (and little known) woman ceramic artist, or the collapse of human communities through history (concluding, disconcertingly, with the vanishing of bees today). Jane Satterfield's poems are intimate, graceful, and brilliant, composed around issues of social and political importance.
Kevin Prufer, author of Fallen From a Chariot and In a Beautiful Country
Cosponsored By:
English
MFA Program in Creative Writing & Environment
Pearl Hogrefe Fund
Committee on Lectures (funded by Student Government)
---
Saving Biodiversity in Southeast Asia
David Wilcove
Thursday, 03 Dec 2015 at 8:00 pm – Great Hall, Memorial Union


David Wilcove is a conservation biologist whose work combines research in ecology and the social sciences to develop innovative ways to protect biodiversity in Asia, South America, and North America. His work has addressed such issues as deforestation, commercial logging, agriculture, and the wild animal trade. Wilcove's distinguished career in conservation demonstrates the active interface between the non-profit sector, government agencies, academia, and society-at-large. He has worked as an ecologist for the Environmental Defense Fund, The Wilderness Society and The Nature Conservancy and is currently Professor of Public Affairs and Ecology and Evolutionary Biology at the Woodrow Wilson School at Princeton University. Wilcove is the author of two books, No Way Home: The Decline of the World's Great Animal Migrations and The Condor's Shadow: The Loss and Recovery of Wildlife in America. Paul L. Errington Memorial Lecture
David Wilcove served as Senior Ecologist at the Environmental Defense Fund in Washington, DC, from 1991 to 2001. His work there focused on developing economically and scientifically sound policies for protecting endangered species.
From 1986 to 1991 he was Senior Ecologist for The Wilderness Society, where he helped to develop the scientific foundation for the Society's arduous and successful campaign to protect the ancient forests of the Pacific Northwest. Prior to joining the staff of The Wilderness Society, he was a Research Scientist in Zoology for The Nature Conservancy.
Professor Wilcove has served on the board of directors of the American Bird Conservatory, Rare, the Society for Conservation Biology, and on the editorial boards of Conservation Biology and Ecological Applications. He is the author of numerous scientific publications, book chapters, and popular articles dealing with conservation biology, endangered species, biogeography, and ornithology. A 1980 graduate of Yale University, David Wilcove holds advanced degrees from Princeton University (M.A., Biology, 1982 and Ph.D., Biology, 1985).
Cosponsored By:
Agronomy
College of Agriculture & Life Sciences
College of Liberal Arts & Sciences
Ecology, Evolution & Organismal Biology
Natural Resource Ecology & Management
Committee on Lectures (funded by Student Government)
---
SPRING 2016
---
Four Perfect Pebbles: A Holocaust Story
Marion Blumenthal Lazan
Monday, 08 Feb 2016 at 7:00 pm – Great Hall, Memorial Union

Marion Blumenthal Lazan provides a moving firsthand account of the Blumenthal family's life in Germany from the events preceding Kristallnacht to imprisonment in concentration camps, including Bergen-Belsen, to liberation in April 1945. She was eleven years old when the family finally gained its freedom. She is the coauthor of Four Perfect Pebbles: A Holocaust Story and subject of the PBS documentary Marion's Triumph. Her story is a life-affirming, inspirational narrative of survival, reconciliation and the limits of endurance, and renews one's faith in humanity.
________________________________________
Learn more about Marion Blumenthal Lazan and the book Four Perfect Pebbles
Cosponsored By:
Ames Jewish Congregation
Health Promotion Club
History
ISU Hillel
Kawaler Foundation Fund for Judaic Studies
Committee on Lectures (funded by Student Government)
---
The Arctic Cycle: The Art of Climate Change
Chantal Bilodeau
Tuesday, 09 Feb 2016 at 8:00 pm – Maintenance Shop, Memorial Union


With work underway on a cycle of eight plays, Chantal Bilodeau is giving an artistic voice to the challenge of a changing Arctic environment. Bilodeau is a New York-based playwright and translator originally from Montreal. She is the Artistic Director of The Arctic Cycle—an organization created to support the writing, development and production of eight plays that examine the impact of climate change on the eight countries of the Arctic—and the founder of the international network Artists and Climate Change. Recent awards include the Woodward International Playwriting Prize as well as First Prize in the Earth Matters on Stage Ecodrama Festival and the Uprising National Playwriting Competition. She is the recipient of a Jerome Travel & Study Grant, a National Endowment for the Arts Fellowship, a Compton Foundation grant, and a U.S. Department of State Federal Assistance Award.
Bilodeau has written about the intersection of arts and climate change in American Theatre Magazine, the World Policy Institute blog Arctic in Context, HowlRound, and the blog Cultures of Energy at the Center for Energy and Environmental Research in the Human Sciences, and presented at the annual conference of the Association for Environmental Studies and Sciences, York University, the American Academy of Arts & Sciences, Tufts University, and Rice University. She is a co-organizer of the international Climate Change Theatre Action. For More Information: "The Art of Climate Change." Canadian Wildlife Federation Magazine 5 July 2015.
---
Dangerous Years: Climate Change and the Long Emergency
David W. Orr
Monday, 29 Feb 2016 at 8:00 pm – Great Hall, Memorial Union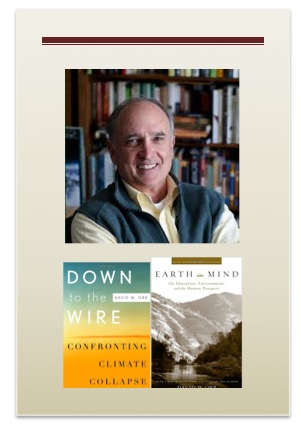 David W. Orr is "Counselor to the President" Oberlin College. He is the author of seven books, including Down to the Wire: Confronting Climate Collapse, and co-editor of three others. His eighth book, Dangerous Years: Climate Change and the Long Emergency will be published by Yale University Press in 2016. He has authored over 220 articles, reviews, book chapters, and professional publications. In the past twenty-five years he has served as a board member or advisor to ten foundations and on the Boards of many organizations including the Rocky Mountain Institute and the Aldo Leopold Foundation. Currently he is a Trustee of the Bioneers, Alliance for Sustainable Colorado, and the WorldWatch Institute. He has been awarded eight honorary degrees and a dozen other awards including a Lyndhurst Prize, a National Achievement Award from the National Wildlife Federation, leadership awards from the U.S. Green Building Council (2014) and from Second Nature (2012). He has lectured at hundreds of colleges and universities throughout the U.S., Europe, and Asia.
---
Hands to Earth: Exploring Agriculture through Performance Art
Cherie Sampson
Tuesday, 29 March 2016 at 7:00 pm – Campanile Room, Memorial Union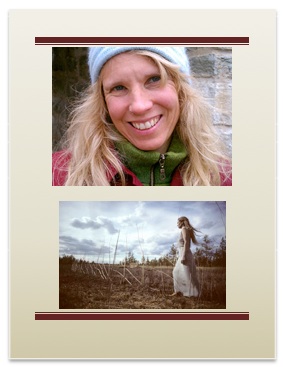 Cherie Sampson is a visual artist and dancer who creates multi-media videos and installations focusing on ecology and agriculture. She will discuss her current project, "Hands to Earth," which explores Midwestern small-scale agriculture through filmed dance performances in fields and orchards.
Her presentation includes video examples of her work as well as a performance of a short dance piece from "Hands to Earth." Sampson hopes to create a dialog about the importance of agriculture beyond agricultural science. She earned an MFA from the University of Iowa in Intermedia and Video Art, teaches at the University of Missouri, and has exhibited and performed in places such as Finland, Hong Kong, and Italy. Her fellowships and grants include two Fulbright Awards and a Change Foundation Grant.  AgArts Annual Lecture.
---
560 Environmental Field Experience Presentations
Saturday, 9 April 2016 at 7-9 pm – Campanile Room, Memorial Union

Ten graduate students in the MFA Program in Creative Writing and Environment will give presentations and short readings about their English 560: Environment Field Experiences.  Presenters include Cathleen Bascom, William Bonfiglio, Taylor Brorby, Corrina Carter, Chloe Clark, Elizabeth Giorgi, Ana Hurtado, Erin Schmiel, Dana Thomann, and Adam Wright.
---
---
ALSO OF INTEREST — AgArts Annual Lecture
Local Wonders Potluck—AgArts Grant Event
Sunday, 10 April 2016 at 6 pm – Alluvial Brewing Company
Bring dish + cash donation to support local grants!  Live music! Trivia! Door Prizes!  Potluck at local brewery to choose AgArts grant recipient!
---
The Natural and Political Migrations of Northern Greece
Julian Hoffman
Sunday, 10 April 2016 at 7:00 pm – Gallery, Memorial Union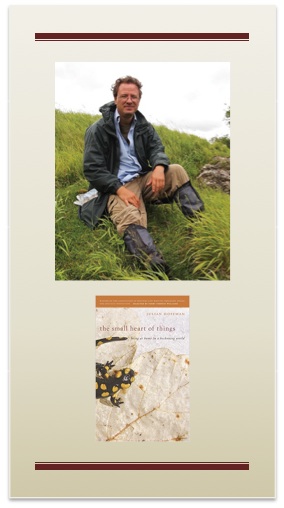 Julian Hoffman's book, The Small Heart of Things: Being at Home in a Beckoning World was awarded the 2012 AWP Award in Creative Nonfiction and the National Outdoor Book Award for Natural History Literature. Hoffman lives beside the Prespa Lakes in northwestern Greece, the first transboundary park in the Balkans. Shared with Albania and the Former Yugoslav Republic of Macedonia, the lake basin is home to a rich range of people and languages, mammals and birds, wild flowers and habitats. It is a place of great diversity. Hoffman earns his living monitoring vulnerable, upland bird species where wind farms have been built or proposed. Hoffman's other fiction and non-fiction have appeared, or are forthcoming, in EarthLines, Kyoto Journal, Beloit Fiction Journal, The Briar Cliff Review, Wild Apples, Flyway, The Redwood Coast Review, Fifth Wednesday Journal, Silk Road Review, Three Coyotes and Southern Humanities Review, among others. Book Trailer: The Small Heart of Things
Links to more of Hoffman's work:
Faith in a Forgotten Place." Terrain.org. 2011 Nonfiction Award.
"Time in Karst Country" Terrain.org Summer/Spring 2011.
"Pelicans." Terrain.org Winter/Spring 2008.
---
All the Land to Hold Us: An Earth Day Reading
Rick Bass
Friday, 22 April 2016 at 7:00 pm – Pioneer Rom, Memorial Union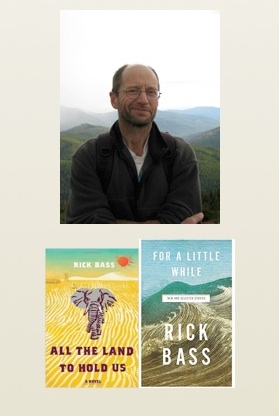 Author and environmentalist Rick Bass is the author of over twenty books of fiction and nonfiction, including Oil Notes, The Ninemile Wolves, The Lost Grizzlies, Winter, The Deer Pasture, Wild to the Heart, and The Book of Yaak. His first short story collection, The Watch, set in Texas, won the PEN/Nelson Algren Award, and his 2002 collection, The Hermit's Story, was a Los Angeles Times Best Book of the Year. Bass has been a recipient of a Guggenheim Award, a Pushcart Prize, and the O. Henry Award and his stories have been collected in The Best American Short Stories.   A Texan by birth, Bass worked as a gas and oil geologist in Mississippi after earning a degree from Utah State University. His autobiography, Why I Came West, was a finalist for the 2008 National Book Critics Circle Award. Bass' most recent books are All the Land to Hold Us, an oil exploration novel set in West Texas, and The Black Rhinos of Namibia: Searching for Survivors in the African Desert.
Bass' forthcoming short story collection, For a Little While, has been praised by Joyce Carol Oates as "nothing short of remarkable." She writes: "Even amid the threat of annihilation, Bass finds the promise of redemption. Grace has always been the great, elusive subject of his short fiction, and the extraordinary, transcendent stories collected here pursue it in myriad and seamless ways." Bass lives in the Yaak Valley in Montana, where he serves on the board of the Yaak Valley Forest Council and Round River Conservation Studies.
---
Small Buried Things: Poetry & Music—Debra Marquart & The Bone People
Sunday, 1 May 2016 at 2 pm – Ames Public Library

Join us for an afternoon of music and poetry.  ISU Professor, Debra Marquart will read from her new poetry collection, Small Buried Things, and team up with musicians Anthony Stevens and Peter Manesis to perform new songs from their forthcoming CD of music.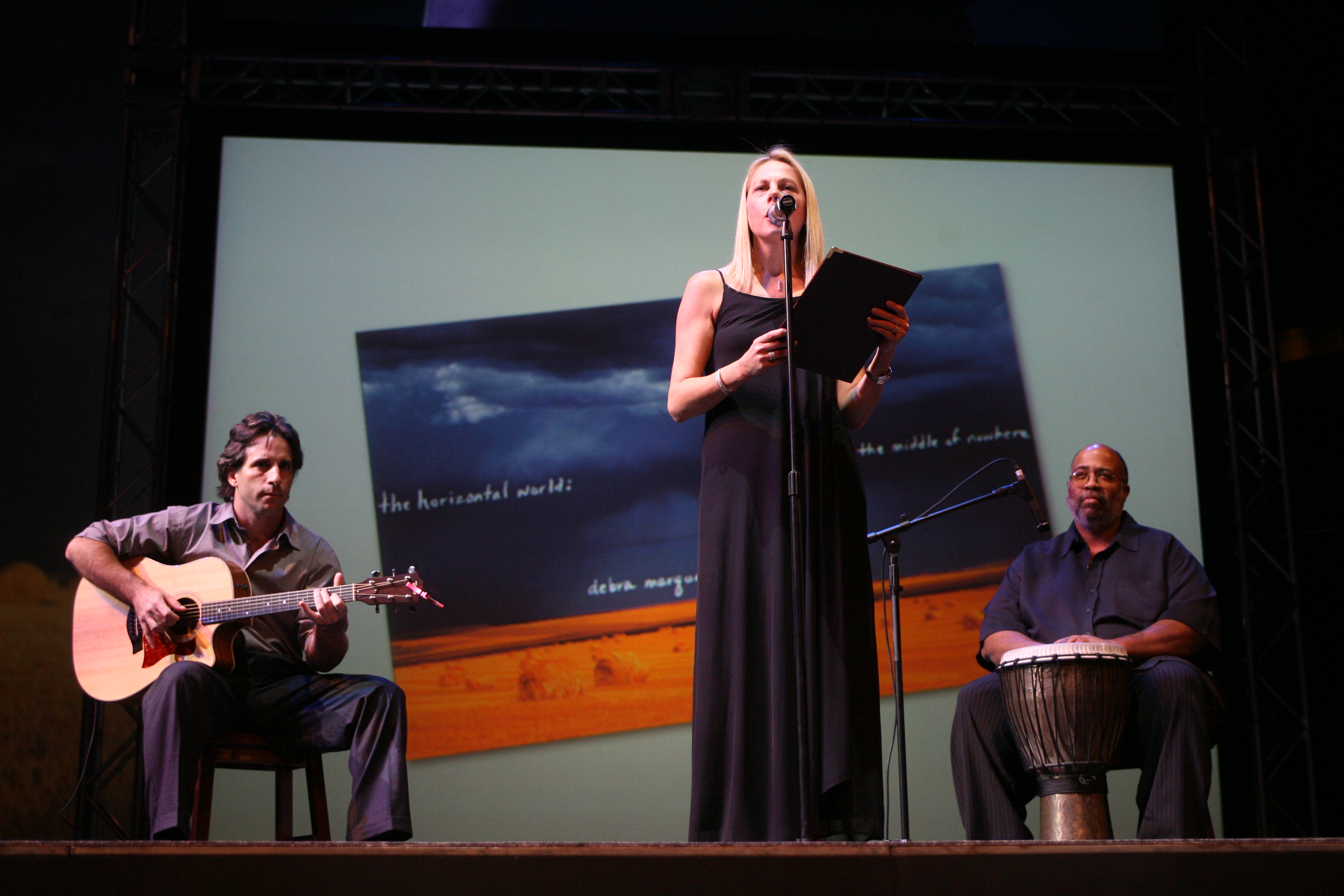 Debra
Marquart is a professor of English in the MFA Program in Creative Writing & Environment at Iowa State University. She is the author of five books, including, most recently, Small Buried Things: Poems. Marquart's short story collection, The Hunger Bone: Rock & Roll Stories, draws on her experiences as a female road musician, and her memoir, The Horizontal World: Growing up Wild in the Middle of Nowhere, received the "Elle Lettres" award from Elle Magazine and the 2007 PEN USA Creative Nonfiction Award.
Her work has received numerous awards including the John Guyon Nonfiction Award, the Shelby Foote Prize for the Essay, a Pushcart Prize, an NEA Creative Writing Prose Fellowship, the 2013 Wachtmeister Award for Excellence in the Arts, the Normal School Poetry Prize, and the 2014 Paumanok Poetry Award, and has appeared in numerous journals including The North American Review, Alligator Juniper, New Letters, River City, Crab Orchard Review, Narrative Magazine, The Sun, The Normal School, River Styx, Orion, and Witness.
---
MFA Thesis Festival
Friday, 6 May 2016 at 12-2 pm – Pioneer Room, Memorial Union

Graduating MFA writers will read excerpts from their theses.  Join us for this celebration with friends and family!
---